I recently shared a post of 10 adorable crochet Christmas ornaments all with free patterns. But for those of you that do not crochet but still like to craft and create, I have gathered a collection of lovely ideas for easy-to-make, non-yarn related Christmas ornaments.
Grateful Prayer Thankful Heart is a participant in the Amazon Services LLC Associates Program, an affiliate advertising program designed to provide a means for us to earn fees by linking to Amazon.com and affiliated sites. We will only recommend products we use, love or think are informative and helpful.
Handmade holiday
There is something wonderful and nostalgic when sitting in a room with just the ambient light of the Christmas tree and seeing a handmade ornament. A sentimental memory of one gifted by little hands or from a friend.
Homespun DIY Ornaments
You can make it a homespun holiday with handmade Christmas ornaments. Not just because purchased decorations can be costly, but because handcrafted items come from the heart. Time and thoughtfulness are real gifts.
Scroll through this collection of 15 lovely projects. There are various styles and materials so you will fine something just right for you to make. Create gorgeous glass balls, sweet felt shapes, sentimental photo tags, salt dough how-to and ornaments that turn bits and pieces into sweet keepsakes. I especially love the dried oranges and scented cinnamon shaped projects with their nature appeal.
Christmas Ornaments
Painted Gold Leaf Ornaments from The Sweetest Occasion. This aqua color gets me every time but you can make elegant, gold leaf glass balls in any color you wish. Make the all the same color or make a rainbow of colors.
Painted Woodland Ornaments from DecoArt. Look at the sweet animal faces on these ornaments. Great painting instructions make them look realistic.
Popsicle Stick Nutcracker from Fireflies and Mud Pies. A fun popsicle stick project in lively colors.
Photo Christmas Ornaments from Kaleidoscope Living. Ornaments with photos capturing become more treasured year after year. A precious keepsake for grandparents!
Easy Felt Christmas Ornaments from Fun Thrifty Mom. There is something about the simplicity of form and color that I love about these felt ornaments. The tiny pearls make them sophisticated but not gaudy.
Buffalo Plaid Ribbon Tree Ornament from Purple Hues and Me. Trees aren't always green and these buffalo check ones are looking rather festive.
Try Amazon Prime 30-Day Free Trial

If making as teacher, friend, neighbor or Pollyanna exchange gifts, the links above are some great packaging suggestion to present your creation in a lovely way.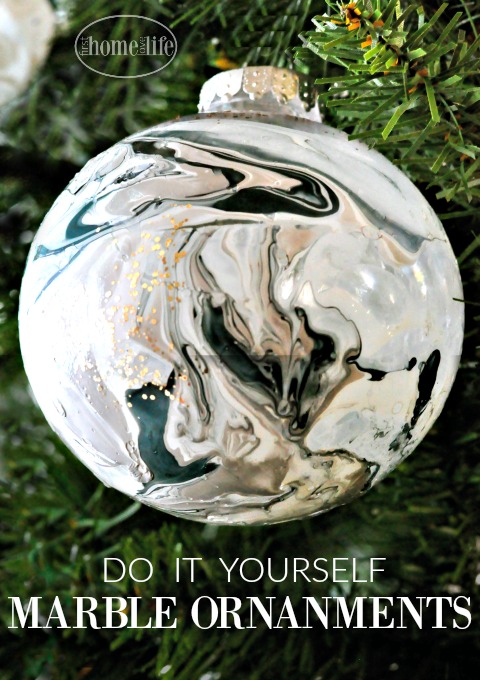 DIY Marble Ornaments from First Home Love Life. True gorgeous, the way the paint swirls in artistic patterns.
Vintage Cookie Cutter Ornaments from BluKat Design. Using bits of vintage jewelry, antique cookie cutters and old greeting cards, these creations are beautiful. Even if you don't have items that are old, you can visit antique and thrift shops or make using supplies from a craft store or online.
Rustic Holiday Ornament from Live Laugh Rowe. Tiny greens attached to twigs are simply embellished with wee buttons and hung by a piece of twine. I image them hung from a cabinet door knob, attached to a present, tied to a homemade food gift or taped to a holiday card with monetary gift.
The Perfect Salt Dough Recipe from Maria Louise Design. Only your imagination limits you as to what you can make using salt dough. Get those cookie cutters out for festive shaped ornaments. Personalize with names or embellish as desired.
Kids fingerprint Handmade Ornaments from Cutesy Crafts. Be still my heart! Yes, little fingers pressed in form the tiny hearts. Personalized and highlighted with color, they make precious treasures.
Dried Citrus Ornaments from The Happy Housewife. A classic, homespun and lovely with a warmth handing individually from the tree branches or strung into a garland.
Home Made Cinnamon Ornaments from Completely Delicious.
Homespun Fabric Ornament from Making Manaznita. A rustic ornament made with a beautiful plaid textured fabric adds charm to your holiday tree.
German Stars from Grateful Prayer Thankful Heart. Make beautiful three-dimensional stars simply by folding strips of paper into a 16-pointed ornament. I have a very easy-to-follow, step-by-step video tutorial that will walk you through the process.
Our Newsletter is published once every three weeks. Each issue is timely and helpful, jam-packed with food, crafts, occasional DIY, gardening and faith resources. Relevant and seasonal posts to inspire and guide you with current trends. Available only to those who request it, so please accept our invitation to stay connected and join the Grateful Prayer Thankful Heart community. Just click the subscribe button below.
If you enjoy a live tree, check out this recipe for Live Tree Fire Retardant that also helps as a preservative.