As most of my friends are getting warmer nowadays, I just keep getting colder and colder.
You will seldom find me without a warm scarf when I go out.
Here are a few Knitted Scarf Patterns I've made.
Grateful Prayer Thankful Heart is a participant in the Amazon Services LLC Associates Program, an affiliate advertising program designed to provide a means for us to earn fees by linking to Amazon.com and affiliated sites. We will only recommend products we use and love.
Knitted Scarf Patterns
I didn't use a pattern for this angora scarf in pretty shades of blue. It is a basketweave and much easier to make than it looks.
I crocheted around the edges and added one row of crocheted shells on the bottom of one edge. I can close it with a pin or simply wrap it around my neck.
As you can see, my scarf isn't done in even squares but rather more like rectangles. That was achieved by adding a few more rows before reversing the pattern.
There are many patterns to be found on the net and here is one that looked clear to follow.
How to Knit Basketweave Stitch
from Dummies.com
Like many stitches, the basketwaeve stitch looks complicated but is actually very easy to create. Basketweave stitch got its name for obvious reasons, as you can see.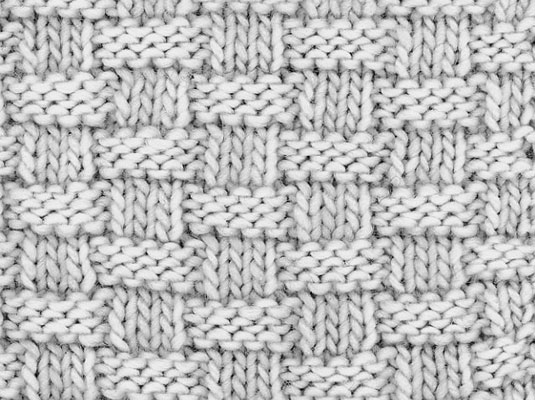 Try your hand at knitting basic basketweave:
Cast on a multiple of 8 sts, plus 5 sts.

Follow this stitch pattern:

Rows 1 and 5 (RS): Knit.

Rows 2 and 4: K5, * p3, k5; rep from * to end of row.

Row 3: P5, * k3, p5; rep from * to end of row.

Rows 6 and 8: K1, p3, * k5, p3; rep from * to last st, k1.

Row 7: P1, k3, * p5, k3; rep from * to last st, k1.

Repeat Rows 1–8 to create the pattern.
You can use any number of stitches for each block — 4 x 4, 5 x 5, 3 x 7, and so on — for variations on the basic basketweave.
Above is an example of a Rib Stitch that was worked up from the long side by casting on lots of stitches and working fewer rows.
This scarf is knitted in the stockinette stitch (all knits) with a contrast color stripe. It is years old but a favorite because it is so soft and warm!
Here is a terrific masculine scarf for guys worked in the Rib Stitch. My husband wears it everyday. I used two strands of yarn and because of the ribbing, it keeps him toasty warm!
I searched the net to give credit to the creator of this pattern and found it @
I Live On A Farm.
Here is the pattern I followed to make a Rib Stitch Scarf:
New York Scarf: A Guy's Woolie Warmer
Materials:
2 skiens Suri Merino from Plymouth Yarn Co. in color #402
2 size U.S. 6 dpns or straight knitting needles
Large tapestry needle
Directions
Cast on 35 stitches.
Rows 1 and 2: Knit.
Row 3: *K3, P2*. Repeat from * to * across row.
Note Correction to Row 4 [posted 6 Nov 07]:
Row 4: *K2, P3*. Repeat from * to * across row.
Repeat Rows 3 and 4 until scarf measures approximately 65 inches in length.
Knit 2 more rows.
Bind off.
Finishing
Using the tapestry needle, weave ends of yarn into stitches securely.
Gently block scarf to measure four and one half inches across.
I just started another scarf using the above pattern, this time in a variegated chunky yarn by Bernat.
~*~
You make also like this knitted cowl post here:
or this little scarf for your pup or a child here: